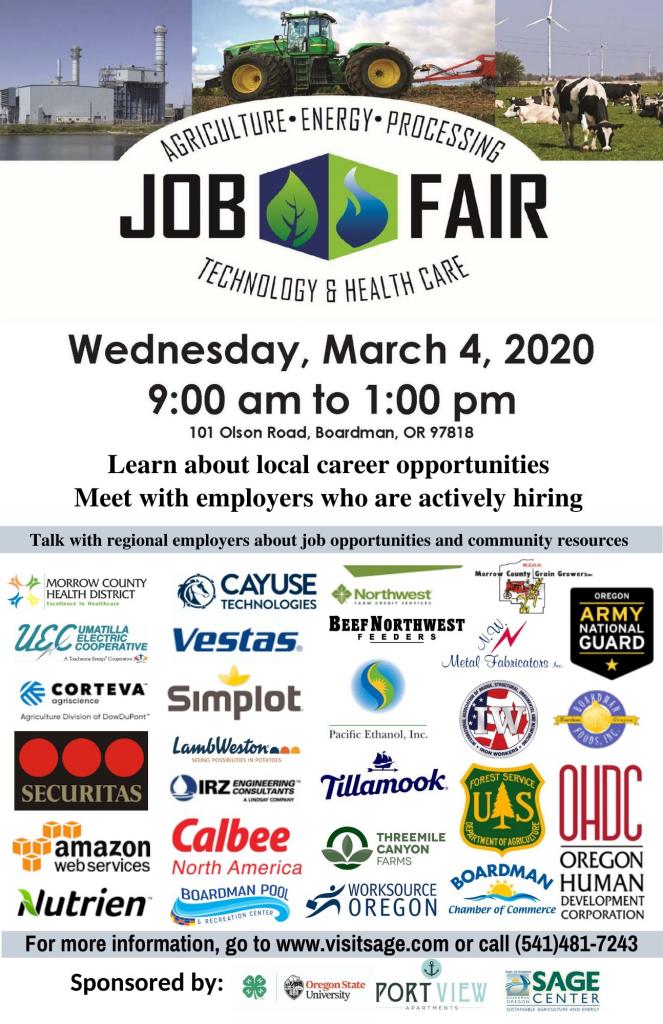 We are pleased to host our 7th annual Agriculture, Energy, Processing, Technology and Health Care Job Fair at the SAGE Center on Wednesday, March 4th from 9:00 am to 1:00 pm.
This event is open to the public, giving attendees a chance to visit with area food processors, utilities, farms, local government agencies, data centers and educational institutions about careers, training and find help in their job-seeking endeavors. 
Attendees will get the unique opportunity to interact with several local employers who are actively hiring and gain knowledge on certain qualifications and training's for high demand positions. There will be over 25 different local companies/businesses present at this years event, as well as the college fair taking place next door at the BMCC Workforce Training Center. 
Don't miss out on this great opportunity if you are seeking a new career, or even just wanting to know what else is available in our fast growing local area.
Later in the day, we will have the two Diaz Brothers, whose story inspired the movie McFarland, USA, join us for a Community Meet & Greet at 6:00 pm at the SAGE Center. This is a very unique and rare opportunity, so stop by and join in on the fun-filled day!
We hope to see you on March 4th at the SAGE Center!