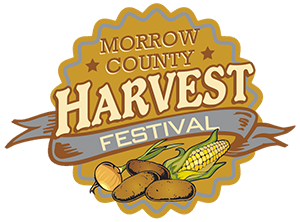 FREE COMMUNITY EVENT CELEBRATING LOCAL ARTISANS, PRODUCE AND FAMILY FUN
BOARDMAN – The sixth annual Morrow County Harvest Festival is set for Saturday, October 5, from 9 a.m. to 4 p.m. at 101 Olson Road in Boardman, Oregon, and is presented by the SAGE Center.
The Morrow County Harvest Festival will feature a variety of vendors with high-quality, regionally produced agricultural goods and handmade artisan crafts.  More than forty vendors will be located both indoors and outdoors at the SAGE Center during the event.
Returning this year, Threemile Canyon Farms will provide an opportunity for attendees to "fill-a-bag" full of locally grown produce at the third annual 'Harvest Bounty For Youth In Agriculture'.  In exchange for a small donation to local 4-H and FFA programs, people will use a grocery bag to pack full of traditionally grown potatoes or organic onions. 
Some of the new "Kids Corner" activities this year involve partnerships with organizations like FFA and Oregon Dairy Women.  Local high schoolers will be representing their respective FFA Chapters with activities promoting agriculture awareness, while Oregon Dairy Women will have a Dairy Princess Ambassador on site.  Returning this year are the mule-drawn wagon rides, face painting and pumpkin painting.   
Another new addition to the event this year is the beer/wine garden and live music starting at 1 p.m. outside on the SAGE Center lawn.  Dallin Puzey, a Hermiston native, writes and performs his own music, in addition to playing a variety of familiar folk, country, rock and pop songs.  Ordnance Brewery and Echo Ridge Cellars will be selling and serving libations for those who are 21 and older.
Activities at the Morrow County Harvest Festival are free for the public to participate in thanks to the generous donations made by sponsoring businesses: Easterday Farms, Kiwanis Club of Boardman, Threemile Canyon Farms, Lamb Weston, Tillamook, Boardman Foods Inc., Boardman Chamber of Commerce, Boardman Pool and Recreation Center, Port View Apartments, and the River Lodge and Grill. 
For more information about the event, please visit the Morrow County Harvest Festival event page on Facebook, go to www.visitsage.com/event/sat-10052019-900am or call the SAGE Center at (541) 481-7243.