MORROW COUNTY HARVEST FESTIVAL IS BACK! 
Free family fun on the first Saturday in October!
OCTOBER 2, 2021 - 10:00 AM TO 4:00 PM
We missed you last year, so this year we're bringing you the Morrow County Harvest Festival bigger and better than ever!
The Morrow County Harvest Festival is an annual event with vendors, activities for children in the Kid's Corner, live music from Dallin Puzey, mule-drawn wagon rides, food, beer and wine, and so much more!  Our goal is to bring the entire community together for a day of celebrating local artisans, produce, and family fun.  We hope you can join us!
Follow us on Facebook for up-to-date event information!
VENDORS
Sky's Designs
Doggy Delites
Harold Rietmann
Birt's Blessings
Casa Gracia
Tzigns
Brittney Hawkins
Natural Maximum, Inc
Pony Express & More
Boardman Busy Hands Crafts
Dilley Ranch
Dot Dot Smile with Jamie Rae
Kirsten Espinola
Daisy Lily Design
Stone Fairy Design
She Shines Designs
Dare to Dazzle with Angela
TJ Gem Co
Morrow County Health District
Riverside FFA
Irrigon FFA
Vivid Imaginations
Oregon Dairy Princess
Double T Farming
Rogers Toyota
Equine Elegance
Boardman Jumpstart Java
Imabsweet Cotton Candy
Quality Concessions
Upper Place Concessions
Bombshell Sweets-TriState
Midway Bar & Grill
If you are interested in becoming a vendor, please fill out one of the following forms:
If you have any questions about becoming a vendor, please contact the SAGE Center at (541) 481-7243.
ACTIVITIES
Free activities that are fun for all ages!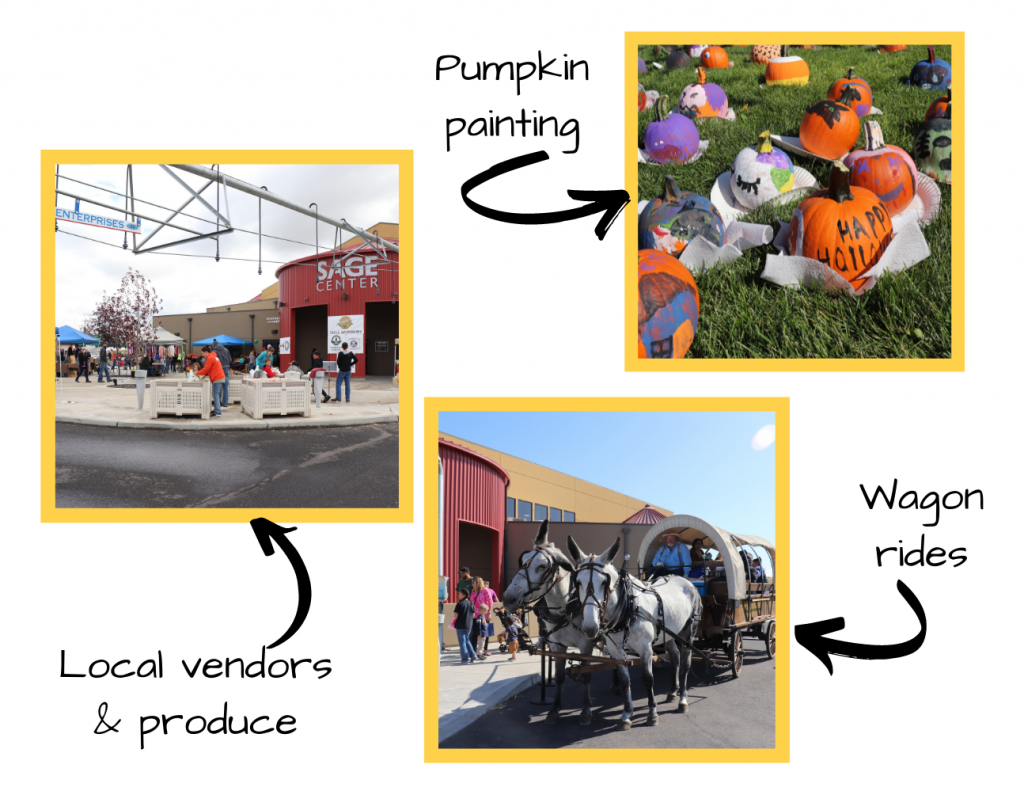 Harvest Bounty Program
Get a bag full of fresh, local produce donated by Threemile Canyon Farms! Donations are welcome. All donations benefit the Riverside FFA.
New this year - Pinewood Derby Races sponsored by Amazon Web Services!
Sign-ups start at 10 AM with races beginning at 2 PM! Races will be divided into divisions: junior (ages 10 and under), intermediate (ages 11-17), and adult (ages 18 and up). Prizes will be given to each division winner, as well as overall winner. You must be present to win. Click here for official rules.
Stop by the Store at SAGE Center to purchase your car kit!
Live music by Dallin Puzey
Dallin Puzey will begin playing live music at 1 PM. Thank you to Umatilla Electric Cooperative for sponsoring his performance!
SPONSORS
This free community event is made possible by generous donations from sponsoring businesses. 
Title Sponsors
Gold Sponsors

Silver Sponsors
Bronze Sponsors






 Doherty & Russell Carwash, Mark & Lisa Pratt
If your business is interested in sponsoring this year's event, please contact us at (541) 481-7243.