CALLING ALL GIRLS IN GRADES 3 THROUGH 12!  
ENJOY A DAY DEDICATED TO YOU AND YOUR FUTURE ON NOV. 9th AT THE SAGE CENTER. 
Girls' Tech Day, hosted by Amazon Web Services (AWS), is a one-day event designed to inspire and empower young girls from grades 3 to 12, and young women 18 to 24 years of age, to pursue interests and careers in technology.  It is a series of learning workshops focused on science, technology, engineering, art, and mathematics (STEAM). 
There is no fee to participate, but registration is required.  To register for the Boardman, OR event, please download the REGISTRATION FORM and email your completed form to: americasincommunitiesteam

amazon.com.  If you are having difficulty registering, please come to the SAGE Center for assistance.  More information about the event can be found at: www.awsgirlstechday.com
Here's a look at the different workshops for each grade/age level: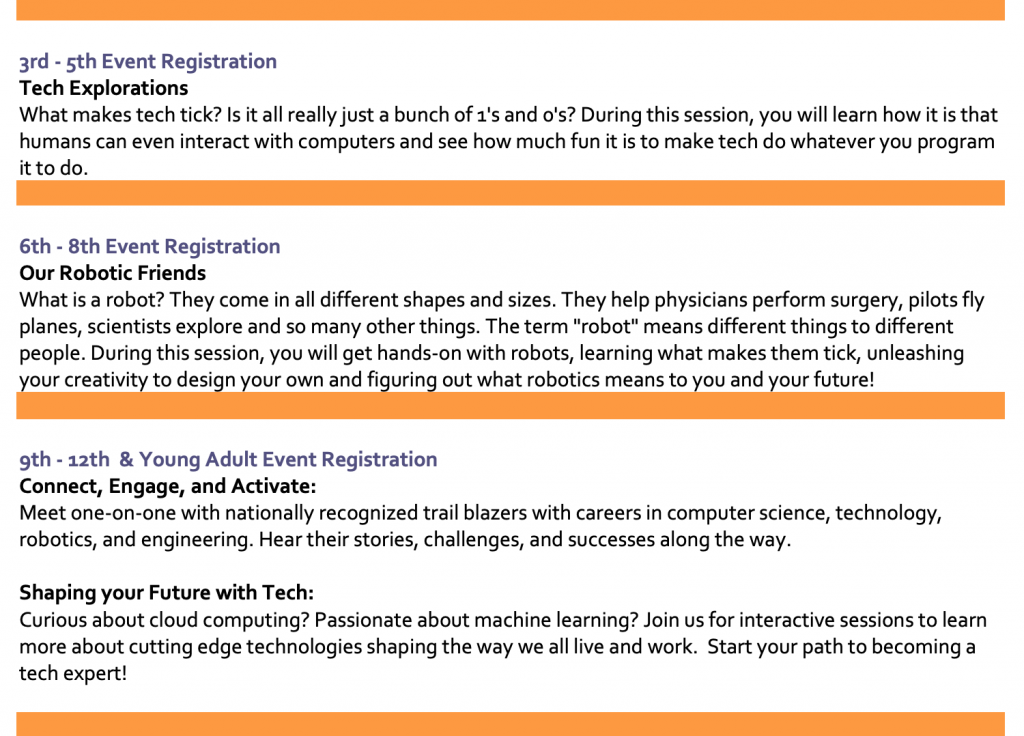 Please note, only completed registration forms will be accepted.  At this time, there will be no day-of onsite registration.  It is advanced registration only.  Attendance for this event is based on the order of submission.  There is a chance that any participant can be wait-listed should the maximum capacity be reached prior to AWS receiving the application.