Educational School Visits
At the SAGE Center you discover where your food begins. From a farm to your table, we explore each step. Our mission is hands-on learning and education through our one-of-a-kind exhibits.
The SAGE Center offers free educational school visits any day we are open, during regular business hours. Registration forms must be submitted prior to your visit date. For the purpose of admission, educational groups from schools, colleges, youth groups, scouts, after-school programs, home schools, summer programs, etc. are considered school groups.
Fun. Informative. Free.
Within the SAGE Center students will be introduced to important topics such as the history of the region, modern farming and irrigation technology, food processing and safety, electricity generation, and distribution of agricultural goods. We provide materials to keep students engaged and learning about how food and energy are produced and ultimately used by consumers daily.
Self-guided tours of the exhibit hall take about 60-minutes. Customize your visit: watch an agricultural film, play outside on the play structure, have an ice cream social, learn how to milk a cow, or plan a science lesson! We can accommodate most requests, but be sure to include additional time for your group. If your group is staying for lunch, we provide space for your group to eat lunch together, however, there is no option to purchase meals on site.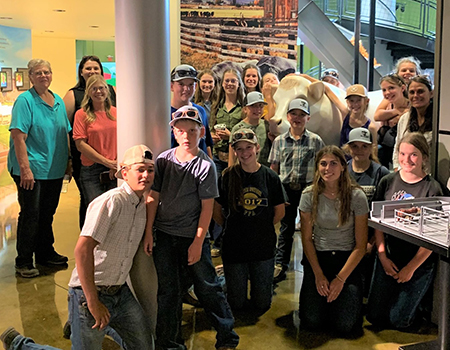 Expand your students' learning by designing a visit around your specific curriculum needs. Teachers are welcome to visit the SAGE Center prior to their school's group visit. Admission is complimentary, but please identify yourself at the front desk. For support in supplemental activities or comprehensive worksheets, contact the Education Coordinator. A curriculum packet that is aligned with Oregon's Common Core Standards is available upon request. View the OCCS chart (PDF).
The SAGE Center staff is happy to participate in school visits by answering questions and providing help during your visit.
Facility Information
Theater - Watch an agricultural film in the theater; 204 seats equipped with fold-out desks for note-taking.
Outdoor Play Structure - Large lawn and play structure; set up for school-age children.  
Ice Cream - Tillamook ice cream is available for purchase at $2.00 for a single scoop served in a dish.

(Please note: Tillamook ice cream contains milk & egg. It is made with equipment that also makes products containing peanuts, soy, tree nuts, and wheat.)
Scheduling Your Visit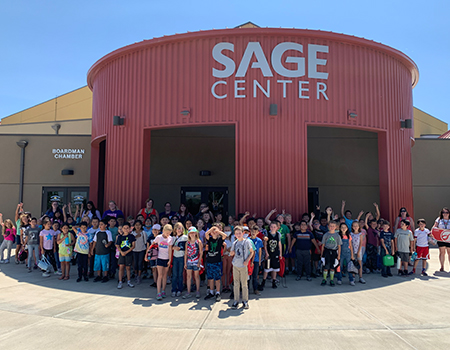 In order to qualify for free admission to the SAGE Center, registration forms from school groups must be submitted prior to the visit date. April, May, and June are busy field trip months, so please register well in advance in order to obtain your desired visit date. Once your registration form has been received, the SAGE Center will confirm via email or call if any conflicts arise. Thank you for choosing the SAGE Center!
Educational Visit Registration (Jot Form, will open in a new window)
Group Guidelines (PDF)
Exhibit Hall Map for School Visits (PDF)
For more information about school visits, please contact us at:
Email: education

portofmorrow.com (education[at]portofmorrow[dot]com)
Phone: 541-481-7243
Fax: 541-481-8987